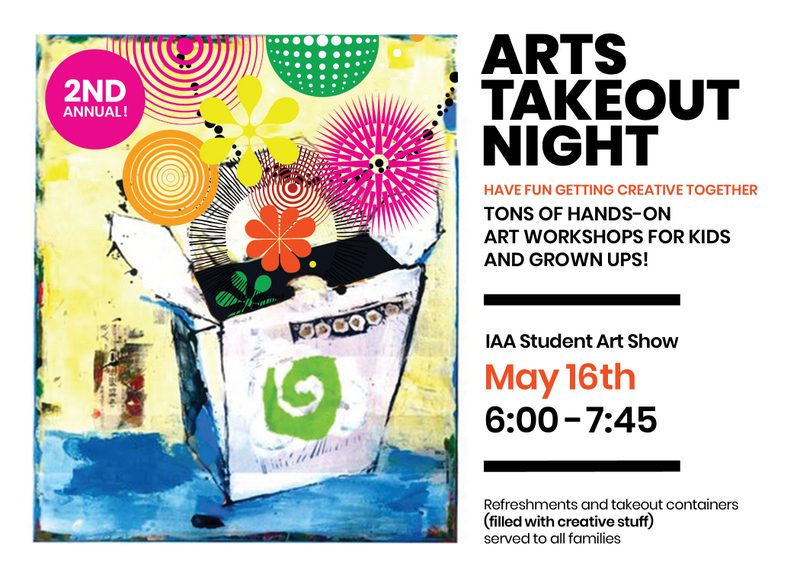 Thursday, May 16th at 6pm!
All IAA  families are welcome to participate in the arts at IAA on May 16, at 6pm. You will  have opportunities to explore space, energy and expression through movement and dance. Families  can  laugh together as they play fun theater improvisation games. You can  learn how to bring a puppet to life during and hands on puppet workshop. You may also chose to learn and sing exciting songs and try out a variety of art making workshops. As you leave, each family will be given a takeout container chock full of creative materials!
No experience is necessary for all of these fun and multi-generational workshops. Wear comfy clothes and shoes so you can really dig-in and have fun with Art at IAA!
HIGHLIGHTS FOR THE NIGHT
STUDENT ART SHOW  –  PUPPETS!  PUPPETS! PUPPETS!  –  FAMILY HIP HOP  –  FUN FAMILY SING  –  VISUAL ARTS BONANZA
REFRESHMENTS  –  MOVEMENT CONVERSATIONS  –  COMIC IMPROV GAMES
Teaching Artists:  Hanna Satterlee, Mark Stein, Ada Leaphart, Karen Sharpwolf, Rose Bedard, David Nacmanie, and with artists from Davis Studio.
This event is sponsored by the IAA PTO, Davis Studios, and the Flynn Center for Performing Arts